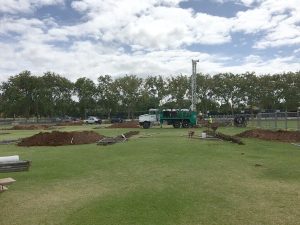 We are very excited to announce a new project with St Peter's College in Adelaide.
We are designing and installing a geoexchange heating and cooling system that is expected to save the school up to 60% of energy costs for heating their pool and conditioning the pool hall.
Drilling commenced last week and the project is expected to be complete by mid 2016.
See below for the full Media Release and details of the project:
St Peter's College Digs Deep for Energy Savings in Pool Upgrade
In a South Australian first, St Peter's College will use a geoexchange heating and cooling system to heat their indoor pool and provide space conditioning to the pool enclosure.
The geothermal technology is expected to save the School approximately over a third of the energy costs to run its Sports Centre.
Jason Haseldine, St Peter's College Director of Finance and Administration, said the installation of a geothermal energy solution aligns with the School's vision for sustainability outlined in its Strategic Plan, Our Preferred Future 2015-2018.
"Environmental sustainability is one of the world's greatest challenges and we must all do what we can to address this global issue – we must focus on minimising our carbon emissions and environmental footprint through energy, water consumption and waste recycling," he said.
"I am excited to see our School lead the way in South Australia and take the first step towards our sustainable future, with the start of these important geothermal works.
"As a School, these works are also significant for our students – they will help us, as educators, continue to lead by example for our boys and educate them about living sustainably so they develop into environmentally-responsible adults."
Yale Carden, the Managing Director of GeoExchange Australia Pty Ltd the company that has designed and will be installing the system, said St Peter's College is to be commended for identifying the importance of energy efficiency to their overall sustainability strategy.
"Schools have a leading role to play in the necessary transition to a clean energy future and St Peter's College has embraced this responsibility," he said.
"Their leading role is an important element in assisting the South Australian Government achieve their stated target of Adelaide being a carbon neutral city by 2050."
Geoexchange systems utilise constant stable temperatures in the ground to increase the efficiency of heating and cooling systems. In the St Peter's College project, ground temperatures of 17C will be accessed through the installation of a Ground Heat Exchanger (GHX) beneath the adjacent sports oval. This will consist of 45 boreholes drilled to a depth of 70 metres each.
The water circulated through the polyethylene pipe within this GHX will extract heat from the ground and deliver it to a series of Ground Source Heat Pumps (GSHPs) that will be located in the main plant room. Two of the GSHPs will transfer this heat from the GHX into the pool water while four GSHPs will supply the pool hall with space heating and/or cooling.
The geothermal works are expected to be completed by mid 2016.
St Peters College, Adelaide is one of the world's most prestigious schools for boys. Established in 1847 as a leading Anglican institution, today the School aspires for every boy to live with meaning and purpose in all corners of the globe. Every student is guided to be caring and compassionate, forgiving and honest, generous and kind and to be inspirational and have integrity.
GeoExchange Australia Pty Ltd (GXA) is an Australian owned company that specializes in the design, supply and installation of geoexchange heating and cooling systems. GXA has pioneered the local geoexchange industry and works in both the residential and commercial sectors across Australia and New Zealand as well as select projects in Asia.
For further information contact:
GeoExchange Australia Pty Ltd
Contact Name: Yale Carden
Email: ycarden@geoexchange.com.au
St Peter's College
Contact Name: Alissa Smith
Email: alissa.smith@stpeters.sa.edu.au